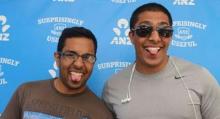 It was 1 and half years back when my family first met Mr. Asoka Weerasundara of Pro X NZ Ltd. By that time we had been deluded by a local education agency and had spent more than a lakh in getting through my brother's visa and university application.
Pro X changed all the hassle into an understandable and guided experience. Of course there was the hassle of finding documents and such. However we had the assurance of a professional in New Zealand and SL helping our cause all for nothing (Free of charge)
The entire service was legitimate and free of charge. Having a NZ registered advisor was very helpful specially with regards to the commendation we received from Mr. Asoka to help with the visa and university applications.
Both my brother and I are now in NZ studying for a Degree in Business Management and a Graduate Diploma in Accounting at Whiteria and Unitec, two of Auckland's premier educational institutions. We are very happy and settling down.
What anyone will receive from Mr. Asoka is a helping and friendly hand, ever ready to advise and comfort. He will be there for you at all times. I'd say he is more a friend than an advisor. I'd recommend him with an open heart.
My thanks should also be extended to Mr. Sanjeeva and Dilani of Pro X Sri Lanka office who helped us in SL. Their service is utterly professional and friendly. Thank you Pro X