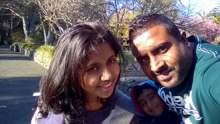 My experience of working with Pro X was exceptional!
In 2014, I got an opportunity to participate "Study in New Zealand" seminar organized by Pro X and NMIT which was held in Colombo. That was my first visit to Pro X. Starting from that point Mr. Asoka Weerasundara was extremely helpful and advised me in every step throughout my visa process. Also he helped me to get the visa for my family without any hassle.
We are really happy to be here in New Zealand and currently I'm following Postgraduate Diploma in Business Enterprise at NMIT.
I would like to thank Mr. Asoka Weerasundara and Pro X team for all the support they have provided me to make my dream come true. My experience of working with Pro X was exceptional and throughout this journey Pro X was always supporting me with accurate information, expert help and guidance.
Very grateful to everyone at Pro X and it will be a pleasure to recommend them to anyone looking to start a career in New Zealand in the future.
I wish all the very best to ProX in their future endeavors.