(FREE ENTRY)
To register, please click here
Date

 

29th March (Sunday)

 

Venue

Dukes Court – Cinnamon Lakeside Hotel

Time

10.00 am to 4pm

 

 
Representatives from a number of New Zealand Education Institutes will be available at the same venue at the same time for you to meet and explore your options.
Licenced Immigration Adviser – Asoka Weerasundara (Licence number 201301161) will be available for FREE immigration advice.
This will be the largest gathering of New Zealand Institutes in Sri Lanka under the same roof after a long time.
Victoria University (Andrea McLeaod-Karim)
Eastern Institute of Technology (Helen Kemp)
Waikato Institute of Technology – Wintec (Balraj Sharma)
New Zealand Tertiary College – NZTC (Sajay Jain)
https://www.nztertiarycollege.ac.nz/
Nelson Marlborough Institute of Technology – NMIT (Shaik Ahmed)
Wellington Institute of Technology – Weltec (Shaaz Hai)
Whitireia Community Polytechnic (Shaaz Hai)
Southern Institute of Technology (Chami Abeysinghe)
To register, please click here.
Call 0764342324 - Monday to Friday during business hours for more details
 New Zealand is a migration destination and Study to Work path way is increasingly becoming the most efficient way to "Study, Work and Live" in New Zealand.
If you are a school lever, you can obtain your Bachelor degree and be eligible for a 3 years Post Study Work Visa in any area of your choice.

If you are a more mature student with a basic degree or any other acceptable professional qualification coupled with work experience, you can study at a Masters level with full time work visa for your spouse and free primary and secondary education for your children between the ages of 5 and 18.

If you are an academic, you can obtain a PhD from one of the top universities (all New Zealand universities are ranked in the first 2% of universities in the word).
­­­ Pro X New Zealand  Ltd (New Zealand based company) in association with New Zealand Academic Centre (NZAC) hosts FREE information seminars in Sri Lanka throughout the year to promote this pathway for the benefit of aspiring Sri Lankan students.
Pro X is the only Sri Lankan Company with the dual Authorization (Education New Zealand and Immigration New Zealand)
For more information go to Immigration Advisors Authority
These seminars are attended by representatives of New Zealand education providers, thus facilitating direct interactions between the prospective students and the institutions.
Our Licensed Immigration Adviser (LIA) is always in attendance at these Free Seminars to provide legitimate immigration advice (It is illegal to provide New Zealand immigration advice if not licensed or exempt)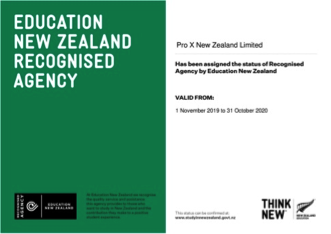 For more information go to ENZRA Agents
Call 0764342324 or email info@prox.co.nz for any further information.