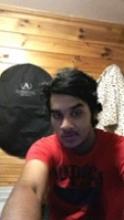 Mr.Asoka Weerasunadara (The man who changed my life).
During a time that I was in cross roads regarding my future, my dad received an email that I now call the magical email. It was about an education opportunity in New Zealand.That was the start of this wonderful journey I am having with Pro X New Zealand Ltd and Mr. Asoka.
Mr. Asoka was in New Zealand so we could meet him face to face, we used Skype to contact him. We gave the first call to him and then he asked me about my high school, then I said I didn't complete it. Then he asked me to follow a foundation course and get back to him after completing it. While I was following the course Mr.Asoka and we had contacts through Skype almost every Sunday.He was guiding me in every step, and the best thing was, he was taking only one step at a time.
Mr.Asoka was so friendly and he talked with us like he is talking to his relatives. By this time we had not even seen him, but he was so close to us, contacted us and inquired how everything was going. There are no words to describe how good he was. I am really lucky to meet such a good person. All this was happening as a result of just a small advertisement that came in an email.
He helped us to select the correct education pathway at the correct college. His guidance to get my student visa was huge. I would never have completed those forms and the rest of the visa documents if not for the support of Mr. Asoka
He was very methodical and systematically in his approach while maintaining his friendly nature.
Guess what?????
He did all this absolutely free of charge. Can you believe receiving such a great personalized service without having to spend even one cent?It was just a couple of days prior to me leaving Sri Lanka that I had the good fortune of meeting Mr. Asoka in person. He was in Sri Lanka for his work and I and my dad visited his office in Colombo 5 to say hi to him.
Currently I am following a Bachelor of Civil Engineering at UNITEC. I was taken by surprise the kind and friendly way UNITEC greeted me on my arrival.It was after a couple of days when I went for walk that I realized how beautiful and clean the country is. Even the people whom I meet in the road were greeting me though I was a complete stranger.It is then that I realized that Mr.Asoka had not only provided me a good career path but also has taken me into a country where everyone is respected.
Even now, when I want something I call Mr Asoka. For an example I wanted to start playing cricket in the summer and wanted to find a good club to join. It was a matter of one email to Mr Asoka, and he attended to it Pro X New Zealand Ltd and Mr. Asoka are the ones that changed my life for good.