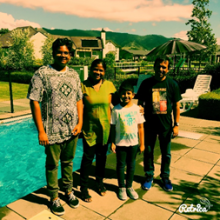 A Dream Came True (CIMA student Thushari Nanayakkara)
While we were exploring different avenues of moving to another country, I received an unexpected text message to my mobile from CIMA Sri Lanka about an opportunity for CIMA members to study and work in New Zealand through Pro X NZ. I never expected that tiny text message to bring a significant fortune to our lives so fast.
It is noteworthy mentioning the reliable, accurate, highly-professional, speedy and free service provided by Mr Asoka Weerasundara and his team in the Sri Lankan Office led by Mr Sanjeewa in realizing my dream. Mr Weerasundara is a highly approachable person and was never busy to address our concerns, clarify our doubts and walk through our complex issues. He and his team had no illusions but provided the true picture of the situation.
Thanks to Pro-X, today I am fortunate to have world class education at NMIT and my kids to study in best New Zealand schools. I have no hesitation in recommending Pro X NZ to anybody, who wishes to move to New Zealand. We wish them success in order to grow from strength to strength and capability in providing their service to other thousands of Sri Lankans like us.
Good Job ProX NZ!!!