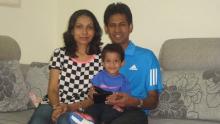 When we started out on this journey - only two years ago, it seemed like our dreams were so far away and we even wondered (at times) if it they would ever come true, but now here we are in such a short space of time came long way and ready to make that all important jump into our new adventure.We had tried to apply for migration to New Zealand twice ourselves without the assistance of a legal advisor. At each occasion, we had to give up it without achieving our goals.
Apparently I got to know Mr. Asoka Weerasundara and Prox New Zealand through web, I was happy he did as it turned out to be more than I expected. As my wife's EOI got rejected on unreasonable ground Mr. Asoka handle the case with true professionalism to recall the rejection within short space of time. We won the case and just got the invitation to apply to New Zealand.
I must highlight that throughout this journey Prox New Zealand were always on hand with never ending expert help and guidance, always quick to answer any queries, even when they answered repeatedly. The other factors we mostly impressed with Prox New Zealand's were professionalism, knowledge, reassurance, friendliness,positive and confident approach which assured me this was someone I can trust.Our sincere and warmest THANKS go to Mr. Asoka Weerasundara and I won't hesitate to recommend Prox New Zealand to any of my friends that will be interested in relocating to New Zealand.
Best Regards and Many Thanks to Prox New Zealand