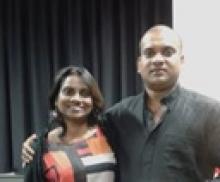 Pro X New Zealand Ltd services are FREE OF CHARGE which amazed me!
Working in the apparel industry had been an extremely busy occupation and an enjoyable one. I hardly had any time to devote to furthering my academic aspirations. Time was passing me by and I was consistently seeing many young people entering the industry, full of qualifications, something that really strengthened my resolve and desire to study even further.
I started thinking to myself "what is going to be the best for my future and how do I go about making it happen?"
Then the fairy-tale started. Suddenly I thought "I want to go to New Zealand and study, but how?" I started searching details of possibilities of entering into New Zealand, a country I admired and dreamed of due to its amazing nature, adventure and most importantly the PEACEFUL lifestyle I'd heard so much about.
While I was browsing through the internet and enquiring about New Zealand from friends, I got to know about Pro X –a New Zealand based company focusing only on New Zealand. This company, I thought would be able to tell me all about New Zealand and the correct path to enter into the country. Mind you, the Chairman of the company is a New Zealand Licensed Immigration Adviser.
As I thought, with absolutely no doubt Pro X became my favorite advisor among many other advisors and helped turn my dream into reality and the best of all it was FREE OF CHARGE which amazed me! There were many educational programs on offer. However based on my many years of experience at senior levels within the industry, Pro X recommended me the Post Graduate Diploma in Business Enterprise offered by NMIT, as a viable option which aligned with my experience and career path.
I can recommend without any doubt that if anyone wants to be in New Zealand, Pro X will help you choose the right path with their dedicated and professional service. If I hadn't come across Pro X, I would have probably missed out on my future.
Mr. Asoka Weerasundara (Chairman) who has been living in New Zealand for nearly 20 years has gone far beyond what any professional adviser is required to do. He has personally handled mine and my husband's visa while he was in Sri Lanka on a short visit. We had no issues or hassles during the short period of the visa process.
Sanjeewa (Local Director) is a gentle person with a positive attitude who wants to give only good news to people and he does in reality.
I want to thank Pro X and the team for their professional, friendly and flexible service. They opened the gate way to our new start to begin a life here in New Zealand, an opportunity which only a handful of people get.
My husband and I are living a very happy and enjoyable life in Nelson, New Zealand.
We want to say a big thank you to Mr Asoka and the team at ProX, we are eternally grateful.