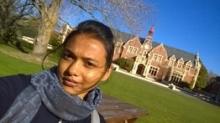 PRO X helped me to get in to a heaven- Rajika
Hi I am Rajika Chandrasena, im a graduate from Sri Lanka and was always looking forward to do my higher studies in overseas. I was looking at Australia but the courses offered in the university I applied did not please me. However, one day I was just scrolling down my emails and saw an advertisement about PRO X New Zealand. So I thought of dropping a message but I never thought I would get a reply. Yet, I got a very soothing reply from Mr Asoka and later I kept bothering him about courses, how to apply and all. He was sending each and everything in full detailed emails and attachments. Once when he was in Sri Lanka, I met him and he explained further, on what I have to do, how to apply, what qualifications I should earn before applying and all. Later, there was a seminar held in Pro X Colombo office by a visiting representative from Lincoln University, New Zealand and I participated. That's when I fell in love with the university and its environment plus it had the course that suited me, Post Graduate in Tourism Management. So from that day onwards, Mr Asoka took care of my applications and all the coordination with the university and always updated me with the next steps and he did all these services for Free. I was not sure whether I will be able to get the visa as I applied within a limited time period but Mr Asoka always showed me the brighter side and positive options and encouraged me. Yes, I got it. It was like my dream came true.
Finally, I'm here and as the university has coordinated as Mr Asoka and promised, the Airport pick up and accommodation were perfectly arranged and now I am enjoying every bit of my stay here. For the first few days, the weather was not friendly for me but now I am used to it. I am a nature lover and I've never thought a developed country would have this much of nature preserved and It's like a paradise for me and I look a stress free person here. Lectures are always supportive and I find Kiwis are really friendly and helpful. Even after I come here, Mr Asoka used to drop me a message, email or call and check whether I am doing ok.
And I really want to thank you Mr Asoka and Mr Sanjeewa at Panaska for supporting and making my dream come true.