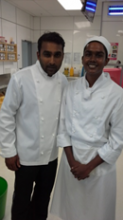 I would greatly appreciate their enormous, free service...
My name is Malindu Lanerolle and I am 17 years old. I had my primary education at Lyceum International School, Nugegoda, I have done my Cambridge ordinary and advance level examinations at Lyceum.
From my very young days, I had been watching my mother preparing tasty meals for our family. This experience aroused my interest in cooking. With the dawn of peace, tourism became a flourishing industry in Sri Lanka. As a result, number of five star hotels are coming up in various part of Sri Lanka. My intense interest in cooking, together with my little experience in this field, which I derived at home by helping my mother to prepare mouthwatering dishes, I finally decided to become a qualified expert in culinary arts and make it my future.
In the mean time I came to know about Pro X, Mr. Asoka Weerasundara and they give me this great opportunity to enroll at NMIT, Nelson , New Zealand- a well-recognized Institute, which offers diplomas in this field. My dream came true as I got the opportunity to join NMIT and presently I am studying culinary Art.
Mr. Asoka and his team at the Pro X provided great guidance, advise and support in every way bearing with me for my silly mistakes to achieve my ultimate goal. I would greatly appreciate their enormous free service and my best wishes for Pro X and the team for their future endeavors.