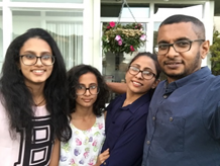 Pro X is always there for any sort of advice or consultations
I would like to take this opportunity to thank Pro X for extending support for me to study in New Zealand. I am truly pleased about the professional approach extended during the entire process. I am more than happy to recommend Pro X for any individual who needs such feedback about my experience.
The key features I would like to highlight would be
Pro X is always a great institute to consult for any sort of New Zealand visa application. It is simple and straight forward, most importantly it is always fair and reasonable.
The visa process is quick and fast, no time is wasted anywhere in between. I was able to process the visa for myself and my family fast and efficiently.
The entire process, including all of the communication is completely transparent. I had the complete visibility of my entire process and had no anxious waiting time.
Efficient communication and reliability. I was able to contact Pro X for any day/time for any sort of needs or clarifications.
The institute which I am enrolled now at New Zealand, NMIT, is a great place to study and a perfect environment to be. There are many resources which are freely available where the students can obtain their support based on their needs and desire.
Pro X has got years of experience being engaged in the process, hence it provided me with great advice on possible challenges and differences beforehand, which allowed for me to be prepared before coming in to New Zealand.
Pro X is always there for any sort of advice or consultations after the process also will be looking after their clients' well-being after they arrived in to New Zealand.
I was able to find a perfect location to progress my studies according to my work experience related to Management of supply chain. All in my family have settled well here and we are looking forward for a great New Zealand summer.
I thank you Mr Weerasundara, Sanjeewa and all of the staff at Pro X for helping me. I wish all the best to Pro X in their future endeavours.