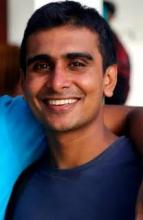 Being a proud product of "Royal College" and having graduated with a Bachelor's degree, Pro X New Zealand Ltd gave me the opportunity to discover my education and carrier paths by taking it to a whole new level. I mostly value the service extended to me and the guidance provided at all times. When I first met Mr. Asoka over Skype, he advised me on a few things, I still recall him saying "Buddhima, you should be clear as to what you want to achieve and most of all be genuine about you, then I will go out of my way to get what you want". Simple as that. I humbly accepted his requested and I saw myself in New Zealand couple of months after.
What I is still hard for me to believe is that, all of Pro X services were totally free of charge.
A man of his word Mr. Asoka, was not hesitant at all times to help me out whenever I required clarification. And also the staff of Pro X Sri Lanka office, Sanjeewa and Dilani who actually got me going with documentation and making sure everything is in order. Thank you, Pro X for your support and all the best in your future endeavours.